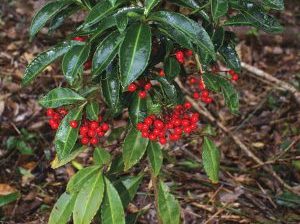 A large infestation of Coral berry (Ardisia crenata) has been discovered behind Brodie Drive. Friends of Coffs Creek Landcare group have already carried several bags of the berries out. Now they need as many Landcarers as possible to assist pulling out the weed. 
All are welcome. We trust that you will enjoy this beautiful part of the Coffs Creek walk. 
Date: Saturday 25th September 2021
Time: 9:00am to 11:30am
Meeting place: Meet opposite 101 Brodie Close, Coffs Harbour NSW 2450. 
This is near Henderson Close and it is where Coffs Creek walk starts. The group will then walk along the track, into the bush, into the area that requires weeding. It is important to be punctual. If you are late, there will be signage you can follow to the work site. 
Items to wear: long sleeve shirt, pants, sturdy enclosed boots, hat, gloves and face mask. Sunscreen and insect repellent. 
Items to bring: trowel, secateurs and weed bags (if you have them). Please bring your own food and drink on the day. 
Please note there are no bathroom facilities nearby.
This is a COVID safe event. The Site Coordinator will run through the COVID WHS requirements on the morning. 
In the case of wet weather on the day please contact the Site Coordinator, Elisabeth Edwards on 0400 579 426. 
If the site is too wet the event will be postponed. 
Please register for the event here https://www.stickytickets.com.au/U7CHZ