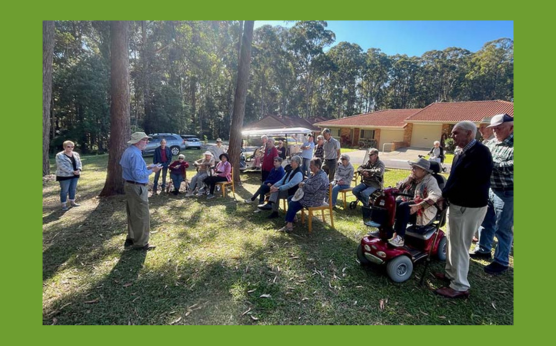 by News Of The Area - Modern Media - August 8, 2023
COMMEMORATING the life of botanical legend, the late Alex Floyd, a group of his friends and long-time fellow residents at Marian Grove Retirement Village in Toormina, gathered in the property's lovely gardens to plant two trees marked with a plaque.
The event was held as part of National Tree Day, on Sunday 30 July. Members of Coffs Harbour Regional Landcare (CHRL) hosted the event and brought along two specially-chosen trees.
Read the full story in News of the Area >>>
Image: Coffs Harbour Regional Landcare president, Barry Powells addresses the gathering of Marian Grove residents at Alex Floyd's memorial tree planting event for National Tree Day.