Map of Landcare work areas in the Coffs Harbour LGA
TOTAL WORK AREA SIZE – 300 Ha of land worked on by volunteers
| | |
| --- | --- |
| Land Manager | Land size |
| CHCC | 130 Ha |
| NPWS | 72 Ha |
| Private | 28 Ha |
| Crown | 70 Ha |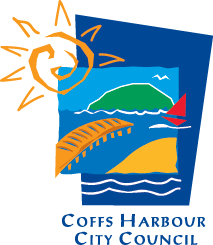 Coffs Harbour City Council (CHCC) supports Community Landcare Action in the Coffs Harbour LGA.
The project is part of CHCC's Environmental Levy Major Projects. 
The objectives of the Environmental Levy Grants Program are to support the MyCoffs Community Strategic Plan – A natural environment sustained for the future:
We protect the diversity of our natural environment (C2.1)
We use resources responsibly to support a safe and stable climate (C2.2)
The past 4 years of the project, 2018-2022, has enable CHRL to deliver:
250+ new members
6 New Landcare sites
4 Landcare site extensions
2 Landcare sites reinstated
51Ha increase in work area size, to a total of 300 Ha land worked on. 
31,020 plants propogated and dsitributed by our Community Nursery (average of 7,755 per year). 
1,812 Mynas trapped (average of 453 each year)
16 workshops
12 Weed Blitz's
16 training sessions for new volunteers
48 members gained professional accreditation
Participation in a number of community events and community groups (e.g. Scouts, schools, TAFE)
You can view a snapshot of the project over the last 4 years, 2018-2022, via this presentation
link
Thank you for supporting Community Landcare Action in the Coffs Harbour LGA.