Coffs Harbour Regional Landcare have a Common Myna trapping program, funded by Coffs Harbour City Council's Environmental Levy.
The Common Myna, Acridotheres tristis (previously known as Indian Myna) was introduced to Australia from south east Asia about 150 years ago and has taken hold in many areas, sadly at the expense of many local native birds. Common Mynas like to live around suburbs with open grasslands, and often feed on leftover pet food.
Why is the Common Myna a problem?
they displace native birds.
they act together to evict native birds from nesting hollows and feeding territories, sometimes killing the chicks of native hollow nesting birds like the Eastern Rosella.
they multiply quickly, can invade roof cavities and spread disease via mites and faeces.
Managing the number of Common Mynas by trapping
Coffs Harbour Regional Landcare have volunteer trappers who place special traps around homes and farms to trap Common Mynas and remove them humanely. These traps use dry pet food to attract the Mynas. Traps are usually left in place for around four weeks before they are moved to a different site. Trapped birds are removed periodically by volunteer trappers. The volunteer trapper will assist you through the process. You only need to ensure the attractant food (small pellets of a supplied dried cat food) and water, is available in the cage – to both attract Myna birds and to treat them humanely in the taller roosting cage until your local Myna trapper comes to collect trapped birds. In the very rare event that another bird, like a native Noisy Miner (which is a honeyeater and not fond of cat food), is attracted into the cage your local Myna trapper will come around to free the native bird immediately.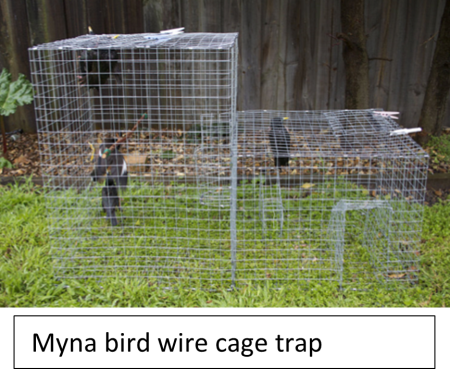 Everyone can help by:  
Ensuring left over pet food is not accessible to the birds, and compost bins are covered;
Plant more native shrubs and small trees as groundcover refuge and food for native birds, and block holes to roof cavities which may allow the Mynas to roost or nest;
Host the placement of a trap if there are a lot of Common Mynas coming to your yard.
The Common Myna is frequently confused with the native Noisy Miner
If you can host a trap, it is important to first distinguish the difference bewteen the pest species and the native Myna. 
PEST Common (Indian) Myna
Brown colour

Head is all black

White patches under wing when flying
The feral Common Myna has a brown body and black head. In flight it has distinctive white patches under its wings. It is an opportunistic feeder living off insects, compost scraps, pet food and more!
NATIVE

Noisy Miner
Grey/white on chest, back of head

Yellow/olive streak on wing

Feeding in flowers
The native Noisy Miner (related to the Bell Miner or bellbird) is a member of the honeyeater family and searches for nectar in the flowers. Both birds act communally to drive other birds away, and while the Noisy Miner can be annoying in large numbers it is not a feral pest.
What can you do?
Become a Volunteer Trapper
Our Myna Trapping Program receives minimal annual funding and operates successfully due to the commitment of only a handful of wonderful volunteer trappers.  However, the demand for trapping is beginning to outweigh our resources, and our volunteers are being run off their feet!  
Full training and support is provided, and fuel costs for trapping travel are subsidised.  If you feel you'd like to help with this important program, please send us an email or give us a call at  (02) 6651 1308 to discuss further.
Host a Trap
We are after residents who are willing to host the placement of a small wire cage trap (see photo) on their property to assist us trap these pest birds. The trap needs to be in a quiet place, in a yard away from any dogs. Ideally where Mynas have been observed landing in a yard to search for food. The trap is well proven to be effective in attracting Mynas.
If you are able to host a trap, fill in the form below with your details. One of our volunteer Myna trappers will then be in touch with you when they have a trap available. The Common Myna is frequently confused with the native Noisy Myna. It is important to correctly identify the pest species. Please read the above differences between the species and check on the form below that you have correct identification of the pest species. 
Host a Common Myna trap
This form captures your contact details, bird numbers and certifies that you have correct species identification.