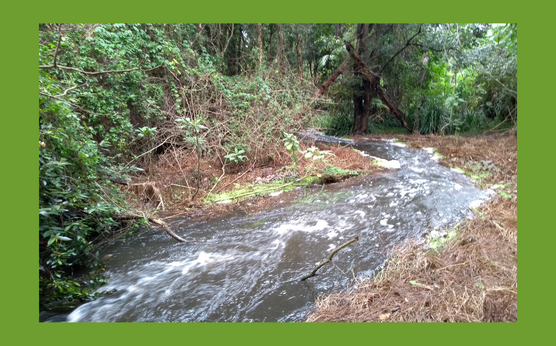 Liz Philpott
….and the rain came bringing good things and bad.
Of the metres of rain that have fallen over Boambee East since February 2022, much of it ended up in Linden Lagoon. The trickling waters turned into a raging torrent, creating a tumbling river, some 20-30 metres wide, spilling over the pedestrian pathway, on its way to Cordwells Creek.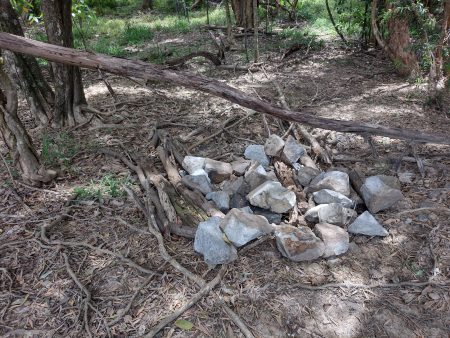 The aftermath has been erosion, undermined Melaleucas, which are falling out of sodden soil, new weeds and as a bonus, new plants!
GOOD PLANTS: The runoff has delivered two new water plants to our site. When I first saw them in mid spring, I had no idea what either of them were and thought they must be weeds because they were healthy, lush green and prolific. I had them both identified, and one turned out to be FROGMOUTH,
 a tall hollyhock looking water plant with a pretty yellow flower, that likes it around watery edges. The other is a form of sedge which has made its home in a difficult section that is always boggy. Win! Win! So, a thank you to the flood, it was very generous of you.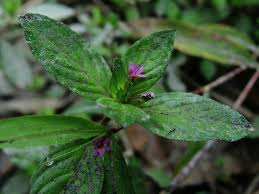 Now for the BAD PLANT news! We had small patches of CUPHEA but after the constant rain, summer saw it come up everywhere. Luckily, it likes to grow in grassy, sunny areas, so it has left the weeded-out understory alone. It does not react to glyphosate and is difficult to pull, so our contractor is trying a few different poisons on it. Another good thing (if that can be said about a weed ) is that it is only low growing with a definite flower and hairy stem, so, it is at least easy to identify and easy to get at. I hope to have an answer from the contractor to share with all of you soon as to which poison(s) are the most effective on it.
All in all, the flooding rains have seen our fledgling plantings, jump out of the ground, upright and healthy. The rain also helped to flush the lagoon, as with nesting season, it had become a huge toilet bowl for hundreds of Egrets and Sacred Ibis and had become quite smelly. The water quality is returning to its sluggish form, but small fish, turtles and water birds are everywhere, so I am thinking the water quality can't be too bad. Water lilies are also blooming. One of our contractors is going to test the water quality for us, so that will be interesting to see the outcome.
Happy Landcaring everyone, keep planting the good ones and pulling out the bad ones!
Liz Philpott. Coordinator. Linden Lagoon.