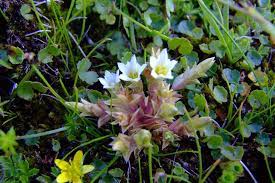 Of the 12 conservation victories in 2021, Bredbo gentian (Gentiana bredboensis), three critically endangered orchids – the Variable Midge-orchid (Genoplesium insigne), Corunastylis sp. Charmhaven and Wyong Sun-orchid (Thelymitra adorata) and The villous mint-bush (Prostanthera densa) are just a few to be celebrated.
Despite the lockdowns, flooding and ongoing recovery following the 2019-20 bushfires, these victories highlight what can be achieved through adversity and give us all a reason to celebrate and feel positive about the future for our native plants and animals.
The team at Saving our Species (SoS) worked tirelessly in 2021, alongside their incredible partners, to deliver positive outcomes for threatened species right across the state.
Top Photo: Bredbo gentian by Rainer Rehwinkel