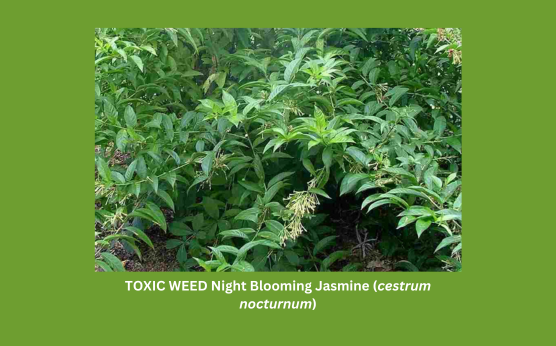 In February, CHRL circulated a Weed Alert to our members, highlighting several weeds not widely known, but slowly making their presence known on Landcare sites.  Included in the Weed Alert was Night Blooming Jasmine (cestrum nocturnum), found not only on sites, but more and more commonly in our yards, pastures and local communities.
Cestrum nocturnum has no restrictions on its sale as a garden plant, despite being declared by The NSW Department of Primary Industries as a weed. The plant or its seeds remain widely available for purchase online and in garden centres and nurseries nationally. The Bunnings website describes cestrum nocturnum as "grown for its green foliage and numerous beautiful flowers, this plant provides the perfect touch of colour for any garden; further enhanced by the lovely aroma it produces at night when in bloom that attract butterflies and bees".
This sweet-scented shrub is an emerging threat, spreading in the NSW northern rivers after the floods and killing livestock. The most recent report linked to the death of two ponies in the Lismore region, confirmed to have died from poisoning after ingesting the weed.