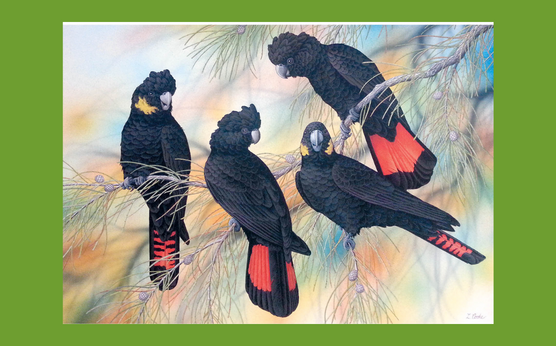 Australian Glossy Black Cockatoos, Casuarina Pine Artist: Lyn Cooke.
Glossy Black-Cockatoos (GBC) are currently listed as vulnerable. They feed exclusively on the seeds of Allocasuarina and Casuarina trees and are dependent on large hollow bearing  eucalypts for nesting sites. A lot of the GBC's habitat was lost/ impacted during the Black Summer bushfires.
CHRL is the delivery partner for Jaliigirr Biodiversity Alliance's (JBA) Glossy Black-Cockatoo Conservation project funded through the Coffs Council Environmental Levy Community grants program. Our project aims to identify key feeding trees and foraging habitat of the GBC in the Coffs Harbour LGA and carry out on-ground recovery works to protect these important areas.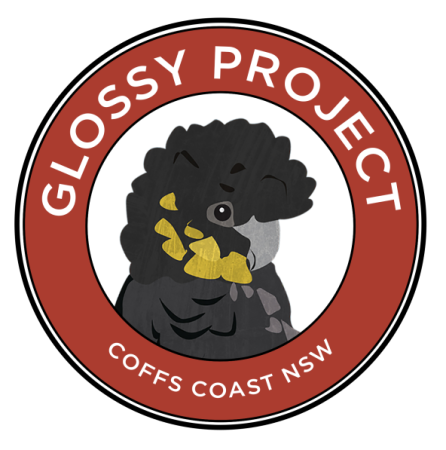 As part of this project we recently supported BirdLife's Coffs Coast Glossy Count by assisting with promoting and running their two training workshops prior to the Count on the last weekend in October. Thank you to all of our Landcarer's who participated in both the workshops and the Count. A summary of the outcomes of the Count has just been provided by Birdlife. It was great to see that a number of actual birds were spotted during the count.
To help us with our project we encourage anyone who sights a Glossy Black-Cockatoo or knows of locations where they are regularly seen to please let us know at the CHRL office ph 66511308 or by email to projects@coffslandcare.org.au. We also have copies of BirdLife's very comprehensive South-eastern Glossy Black-Cockatoo Field Guide available in the CHRL office for people who are interested in finding out more above these wonderful birds.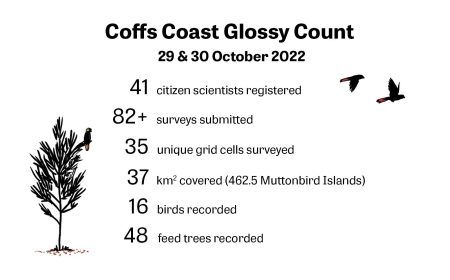 Birdlife Australia are pleased to present a summary of the data set that fellow citizen scientists, helped to create (left). This data will be used to inform bushfire recovery and conservation management actions for South-eastern Glossy Black-Cockatoos.