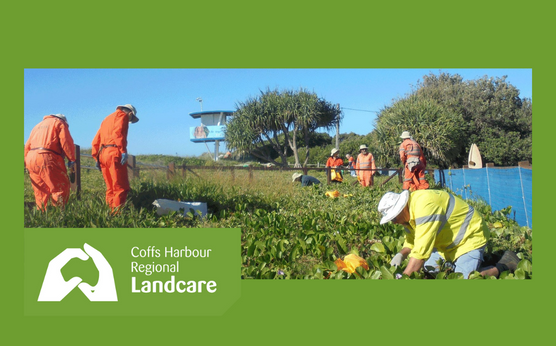 LANDCARE NEEDS FUNDING TO CONTINUE TO DELIVER ON GROUND ENVIRONMENTAL OUTCOMES
Leading into the NSW State Election on Saturday, 25 March 2023, Landcare in NSW is calling on all political representatives to support the Landcare movement and commit to funding an enhanced program requiring a $59 million investment over the next four years.
Coffs Harbour Regional Landcare welcomes announcements made by The Greens and NSW Labor to support Landcare and provide the funding needed to employ Landcare Coordinators and First Nations Landcare Officers across the state. This will support the work of Coffs Landcare, a predominantly volunteer organisation that works on coastal sites within the Coffs Coast Regional Park, on council reserves or other public land managed by the National Parks and Wildlife Service, by Coffs Harbour City Council or NSW Crown Lands. 
With this funding, the Landcare network will be able to harness the capacity and willingness of our network of volunteers to provide essential support services and increase our efforts to make our environment and communities more resilient to extreme climate events, protect threatened species and to reverse the decline in our precious biodiversity.
Landcare values the support provided by the NSW Government to fund the current program however, for Landcare to continue, we need cross-party support. We are calling on the Coalition to show its support for Landcare and provide a $59 million funding commitment over the next four years.
It is imperative that the Government continues to fund Landcare in NSW and the 100 regional and rural jobs it supports through the NSW Landcare Program. Landcare across NSW stands ready to help the Government respond to the many environmental challenges we all face.
Most of our work is accomplished through the efforts of landholders and volunteers working in many and varied capacities. While volunteerism is at the heart of Landcare, we also need professional Regional and Local Landcare Coordinators and central support services such as information, training, communication, data, tools, guidelines and advice.
These structures and services enable Landcarers to get on with the job of protecting our local natural resources, promoting sustainable agriculture and building social capital. As volunteers we willingly work hard to improve our environment and communities but we cannot do it alone.
Economic modelling shows this investment will generate $218m in benefits for NSW with $3.70 of value for every dollar spent.