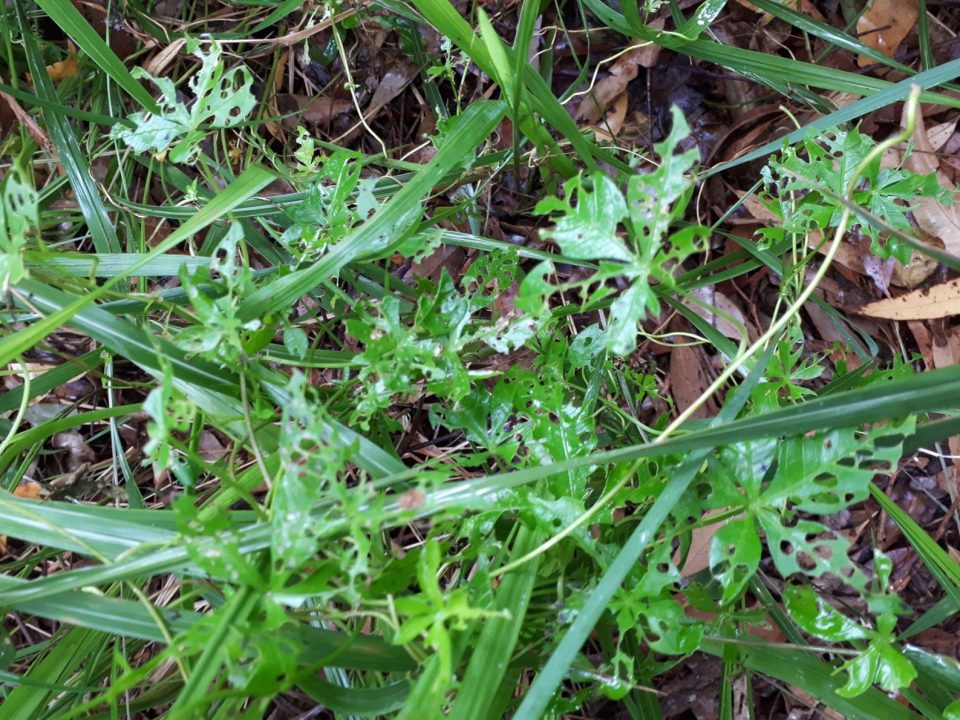 Is your Morning Glory looking a bit sad? Here's an interesting tale from Linden Lagoon Landcare  ~ Liz Philpott & Dave Wood
They were working in a patch the other day and noticed something had been giving the morning glory (Ipomoea cairica – Coastal Morning Glory) a hiding … as in eating holes in the foliage.
As they were pondering what it could be, a couple ambled up the path with some pretty expensive camera gear, stopping to take high res photographs of insects along the edge of the path.   Apparently according to site coordinator Liz, they are regulars.
One of their mob with youthful eyesight (Lucy) actually spotted a small beetle and some larvae on a Morning Glory vine and approached the photographers with a chance at I.D.  Turns out that what we had were 2 types of tortoise beetles and their larvae – an orange and a green.  Both the orange tortoise beetle (Aspidimorpha westwoodi) and the green tortoise beetle (Cassida compuncta) are Australian natives and are characterised by a clear hard covering which looks a bit like a tortoise shell. They have wings and can fly much like a ladybug.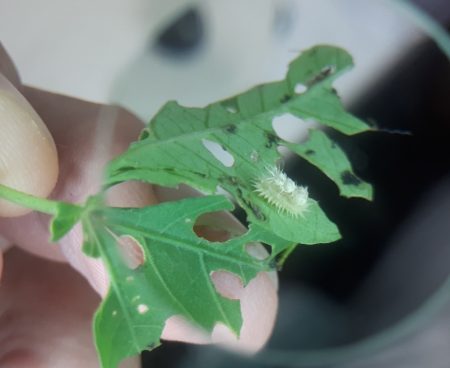 Their larvae (pictured left) are only about 3 mm long with multiple spikes and an overhanging tail like a scorpion. They could be straight out of a sci-fi movie.  They initially feed on the outer surface of the leaf, and as they mature eat right through, accounting for the large holes.
A search on the Atlas of Living Australia website reveals that while common in QLD and northern NSW the orange has not been listed between Yamba and Port Macquarie. There are a couple of local records of the green variety.
The website, Brisbane Insects, is an interesting resource and specifically talks about Coastal MG as being a mainstay of C. compuncta's diet.  Apparently they fancy sweet potato vines as well.