There are many weeds throughout the NSW North Coast, some of them are noxious weeds and some are environmental weeds. A noxious weed is a weed that must be controlled by law. An environmental weed has no legal requirement but still has impact on the natural environment.
If you are a new property owner on the North Coast, please make yourself familiar with current weed legislation as this legislation can apply to you living and working on the land.
If you have found a weed on your property and don't know what it is, please bring a good sample (preferably intact with any seed or berry) into the Coffs Harbour Regional Landcare Office, our staff will be happy to help you identify it and tell you about control measures.
We have also provided some useful resources to help you with a variety of weeds.
Weeds of the North Coast of NSW Guide
A new local weed identification booklet 'Weeds of the North Coast of NSW – a guide to identification and control' has been developed by the Coffs Harbour Regional Landcare with funding from the Austral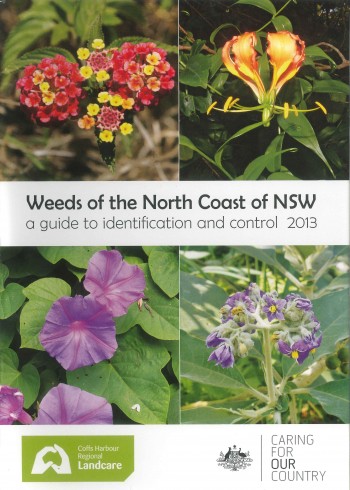 ian Government's Caring for Our Country program. It is a comprehensive booklet with high quality photos and detailed descriptions of local weeds and the methods that can be used to control them. While not every plant that is considered a weed on the North Coast is included, the booklet's focus is on the most invasive species and those that are newly emerging in this region.
You can pick up a hard copy at the CHRL office, or view it online. Hard copy booklets for non-members are $5, which goes into raising funds for future editions.
Each chapter of the booklet can also be viewed and downloaded individually by clicking on the links below:
Introduction
Ground Layers
Grasses
Vines and Scramblers
Trees
Shrubs
Aquatic Plants
Glossary & Index